Since the formalisation of the Association in 1998, we have sought to adopt suitable community based charities to be beneficiaries of funds raised by us.  As a non-profit sporting organisation we see this as an ideal opportunity for our members to give back some form of benefit to those less fortunate than ourselves.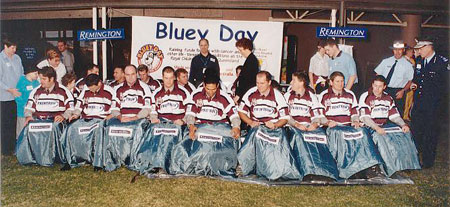 In 2001, our State Representative squad was used to launch the Foundation's "Bluey Day" campaign by shaving their heads prior to the interstate game against the NSW Police.  At the same time our boys donated $1,000-00 to the foundation.
At the Brisbane carnival in 2002, the organising committee from the Brisbane Bulldogs collected money on behalf of the Kim Walters Choices Program.  The Association chipped in, bringing the total raised during the carnival for this worthwhile cause, to $1,000-00.  Also, at the State of Origin curtain raiser against the NSW Police, the Association gained approval from the QRL to conduct a collection at the main gates of ANZ Stadium for the Royal Children's Hospital.  In conjunction with the Bluey Day organising committee, this endeavour saw $3,794-40 raised for the hospital.
Our Association also encourages each of our Regional teams to adopt suitable local charities within their areas for the same reasons, and the Queensland Police Service also encourages its members in this regard.
Below is a break-up of monies/benefits donated to charity since 1998 by the Qld Police Service Rugby League Association and our members.
Year

Beneficiary/Charity

Donated By

Form of Benefit

Value $

1998
St Vincent de Paul – Mt Isa
Mt Isa Mongrels
Cash

750.00

2001
Qld Cancer Council – Brisbane
Over 35's Charity Match
Cash

360.00

Royal Children's Hospital Foundation
(Bluey Day) – Brisbane
Qld State Squad
Cash

1,000.00

Qld Cancer Council – Cairns
Qld Association &
FNQ Marlins
Cash

500.00

2002
Kim Walters Choices Program
Qld Association & Qld State Squad
Cash

1,000.00

Royal Children's Hospital Foundation
(Bluey Day) – Brisbane
Qld Association – State of Origin Collection
Cash

3,794.40

2003
Victims of Homicide
Logan City Vikings Annual Charity Match
Cash

3,000.00

2004
Centre Against Sexual Violence
Logan City Vikings Annual Charity Match
Cash

 750.00

Radio Lollipop
Logan City Vikings Annual Charity Match
Cash

 750.00

2005
Centre Against Sexual Violence
Logan City Vikings Annual Charity Match
Cash

 750.00

Radio Lillipop
Logan City Vikings Annual Charity Match
Cash

 750.00

2006
Bundaberg PCYC
Qld Association & Wide Bay Crocs
Cash

1,000.00

Starlight Foundation
Logan City Vikings Annual Charity Match
Cash

 1,500.00

2007
Starlight Foundation
Logan City Charity Match
Cash

 1,500.00

2008
Kim Walters Choices Program
Qld Association
Cash

 500.00

Kim Walters Choices Program
Southern Boars
Cash

 500.00

Kim Walters Choices Program
Brisbane Bulldogs
Cash

 1,500.00

Kim Walters Choices Program
State Championships Collection
Cash

 1,500.00

Police Legacy
Qld Association – On-Line Auction
Cash

1,905.00

Ride for a Cure (Cerebral Palsy Research)
Logan City Vikings Annual Charity Match
Cash

 2,000.00

25,309.40