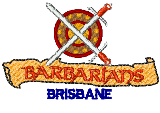 The Brisbane Barbarians club was formed in 2002 due to the huge groundswell of interest from Brisbane Police.  With the carnival being held in Brisbane and the success of the current and traditional Brisbane side, the path was clear for the formation of the much awaited second Brisbane team.
The side was made up mostly from members of Crime Operations and SERT, but as the name suggests, was open for any player from within the Brisbane Metropolitan area to join.  The Association was delighted to see the hard work done by those involved in the formation of this side and looked forward to the Baa Baa's becoming as strong a club and enjoy as much success as the traditional Brisbane outfit.
In 2004, due to the apparent strength of both Brisbane based clubs, a vote by the Association delegates determined that the boundaries for the Barbarians recruitment area was to be the Metro South Police Region.  This move proved to be the beginning of the downfall of this fledgling club, with player numbers and support dwindling to the point that the club could not sustain itself.
In it's short history, the Barbarians claimed 2 Plate Finals and had Ash Purvey selected in the Qld State side in 2002, with Trent Lucas and Lyall McKelvie gaining selection in the 2003 Australian Squad for their tour to England